Registration at ISB - High School
It is always exciting to welcome new High School students to ISB. In order to be maximally accommodating, registration at ISB is possible throughout the entire school year (assuming there are free places in the classes). While we understand that every family's situation is unique and therefore might require an individualized registration process, the following is the preferred registration procedure at ISB.
Contact visit
Prior to formally applying to the school, families are welcome to visit ISB anytime. ISB staff members will be happy to provide a tour of the facilities, to introduce families to teachers and students and to answer any questions they might have about the school and the registration process.
Moving to a new school is a big change. We understand that sometimes, more than one visit is necessary as sometimes the whole family is not in Brno for the initial visit. It is not a problem to arrange multiple visits. It is very important that students get a chance to see their potential school.
To arrange a visit, please contact:
E-mail: info(zavinac)isob.cz
Mobile - Head of School: +420 776 490 120
Mobile - Secondary/High School Principal: +420 731 558 586
Once the decision to register at ISB has been made, families should provide the school with the following documents:
the completed registration form - download here
a copy of 1 parent's passport
a copy of the student's passport
translated copies of the most recent progress reports from the student's current school
if applicable, all pertinent documentation detailing the student's education thus far (Behaviour Plans, Individual Education Plans, Special Educational Needs documentation, Advancement Plans, etc.)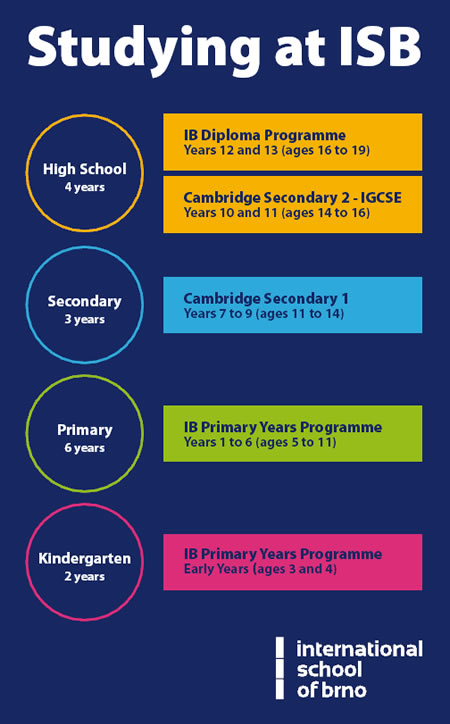 Assessment
Before students are registered to the high school, they are assessed in English, Maths and Science so that their current stage of learning and English proficiency can be determined. These tests can be written at ISB or at another location provided there is a guarantee that they will be written in appropriate conditions.
The assessments will allow the school to place the student in the best year group. Please note that a student's current progress and/or English proficiency may result in the school recommending an extended study in plan in the high school.
To see the IB Diploma Programme Admissions policy, click here.