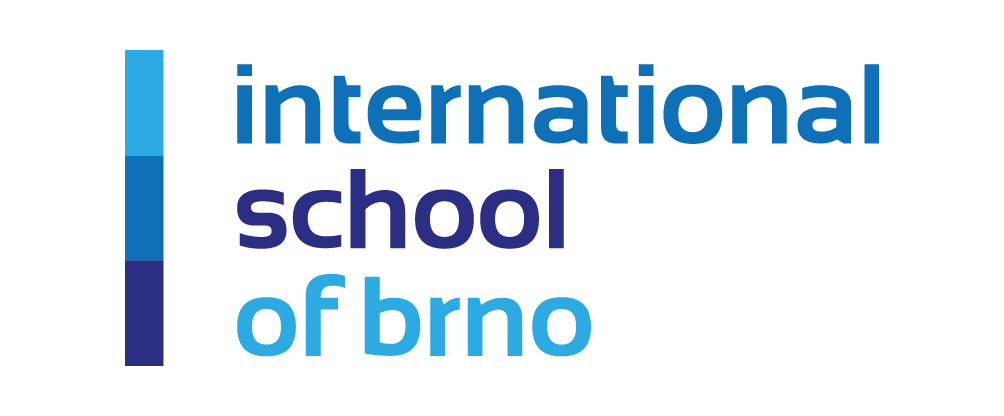 "LEARN, GROW, AND BE UNIQUE WITH ISB"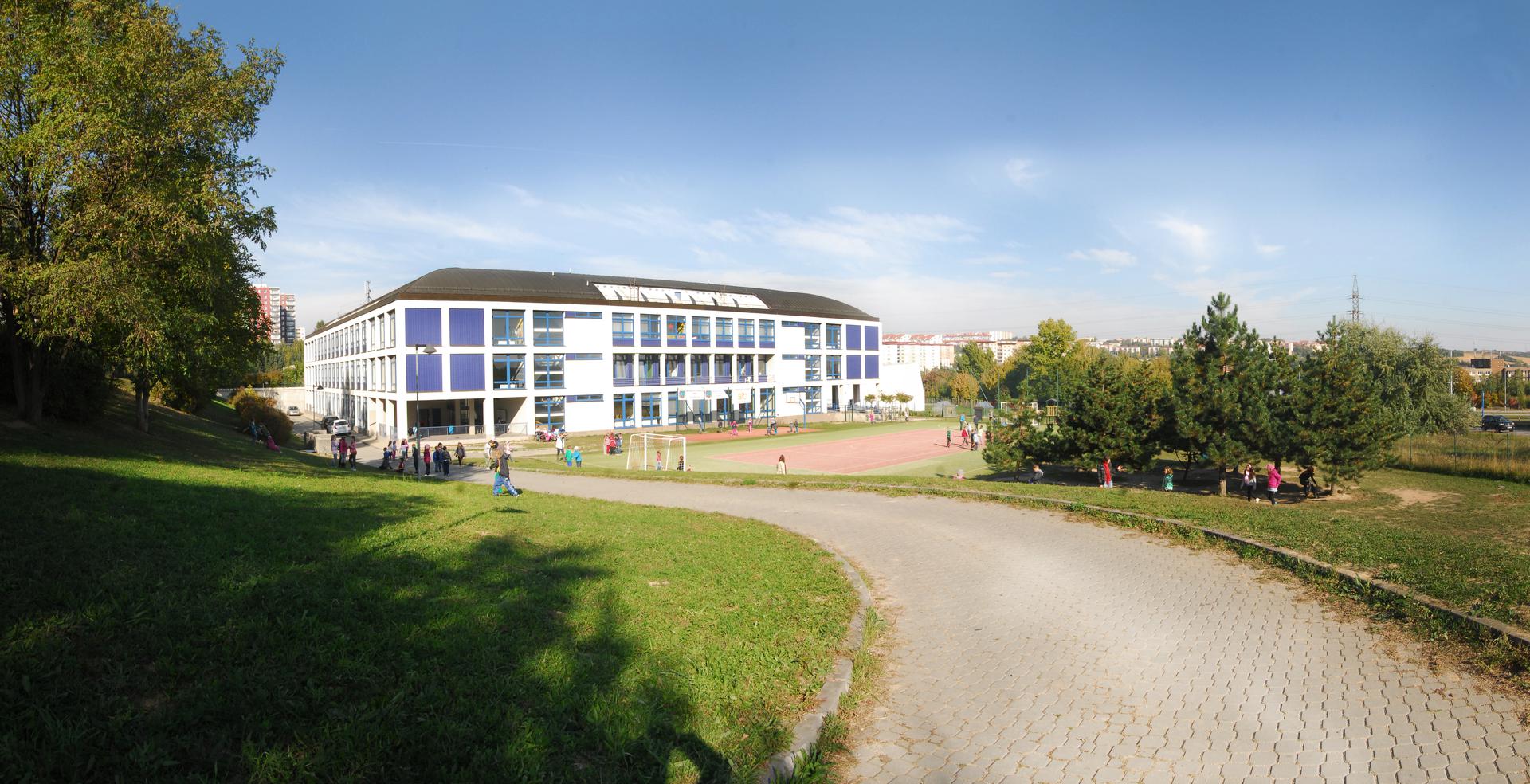 Message from the Head of School and ISB Chairman:
Within the long journey of the International School of Brno, there have been many hurdles to overcome. Each and every time we found a way to successfully push through. The school has continuously grown and adopted the best, most progressive, and up-to-date programs and learning practices. We achieved the most prestigious accreditations in international education and we fulfilled the expectations of parents and students alike. We have been able to get the best teaching professionals on board and we were always able to find solutions to any problem. With the dedication of the ISB team, we were always able to steer the ship in the right direction.
For the first time, we are very concerned and feel vulnerable. Our world seems so confident, dynamic and intelligent, but at the same time it is so incredibly fragile. The sustainability of life on our planet is not guaranteed. The question of "How fast can we go?" is followed by the answer "There is no limit, but we are not sure what speed would destroy us."
In these uncertain times, we continue to educate and support our students. We are adapting, being flexible and responsive to challenging situations. As much as this situation is very unfortunate, even dangerous from many points of view, and most definitely unpredictable and threatening, we also see it as an opportunity.
An opportunity to test the teaching and learning methods at ISB in the digital era. And even more paramount; it is a great test of the bonds we have with our students, their independence and responsibility.
The more we, educators, think about it, the more weight and responsibility we feel. The enthusiasm of our team truly is contagious. We see the importance of education for the next generation, it is in our hands. The decisions our children and students will be making soon will be crucial to the future of our world. We want to shape a generation that will be considerate, respectful and wise in the widest possible meaning of these terms. These are the values we wish to fully integrate into their daily lives and actions. We believe this is the cure and recipe for the sustainability of the life that we love so much.
Thank you for supporting us in so many ways during this mission, together we shall overcome.
Jan Švihálek – Head of School
Pavel Iványi – Chairman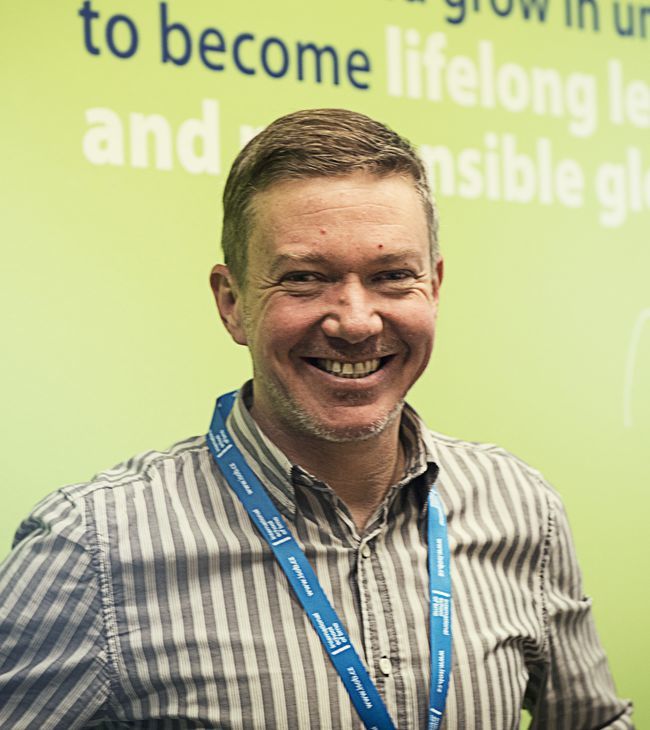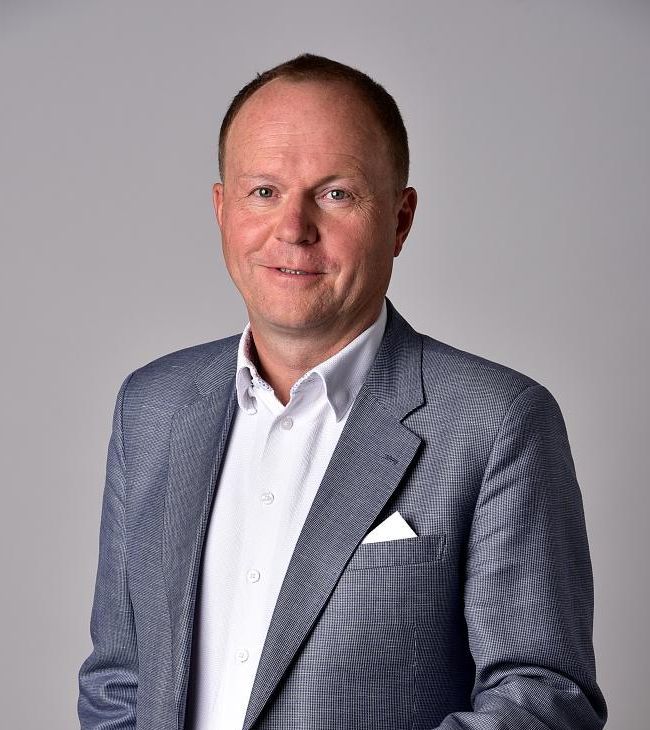 SECONDARY AND HIGH SCHOOL
Mental and Physical Well-being of our Students
In addition to making sure that our students do not fall behind during this global situation, we are also keeping track of the mental and physical well-being of our students. Many of them are using this as an opportunity to try something new; some are learning a new language, some are learning how to code, Mr. Chlapek is getting them to learn to juggle and we've introduced morning exercises as part of the daily routine.
In a recent survey, the majority of the students feel like they have enough work to make sure that they continue to learn and grow during this period. We are using this data to make sure that this learning extends beyond the curriculum so that they will be able to learn some valuable lessons about what the world needs moving past the COVID-19 outbreak.
SB Secondary Students practice Social Distancing
Flinga is one way of collaborating that secondary students are using to discuss and evaluate the current situation and make progress on homework and reading. They can provide answers to the teacher's questions which can then be discussed via video-conferencing. This also helps the teacher plan follow-up discussions so the learning cycle can have continuity.

Students were asked how they are managing the situation and learning at home. Most of them are feeling ok about it. Some other answers are (translated from
Czech):
"School is now more free, but still funny."

"I can be constantly in a tracksuit."

"I'm enjoying the comfort of home, etc."

"I am a bit bored"

"We have a lot of homework, but with good time management it is possible."

"More time for me, trying to use it properly."
Planning the Virtual Math lessons with the students
Four Year 9 students were discussing the plans for their online learning with Mr. Reed the day after we found out that school would be closed for students until further notice. The students were asking questions regarding their online timetables and felt quite comforted with the plan in the new situation.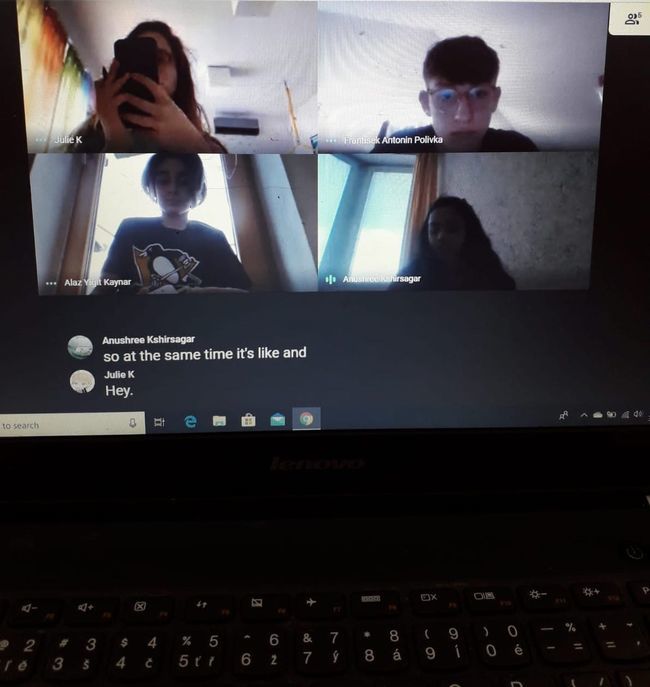 Need any help with budgeting? Students in year 7 & 8 are using their understanding of income, variable expenses, fixed expenses, and taxes developed using an online simulation program. They are designing an accurate budget based on the average income in the Czech Republic. They are making decisions about where they want to live, how much they should save, and where they should travel based on actual numbers and sources they have researched. They will also closely examine the ethical implications of their decisions as consumers by researching and analyzing major clothing companies they currently shop from, and proposing more ethical alternatives.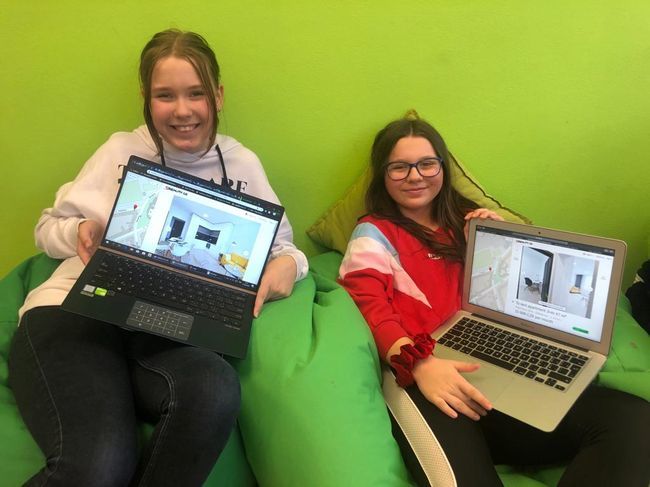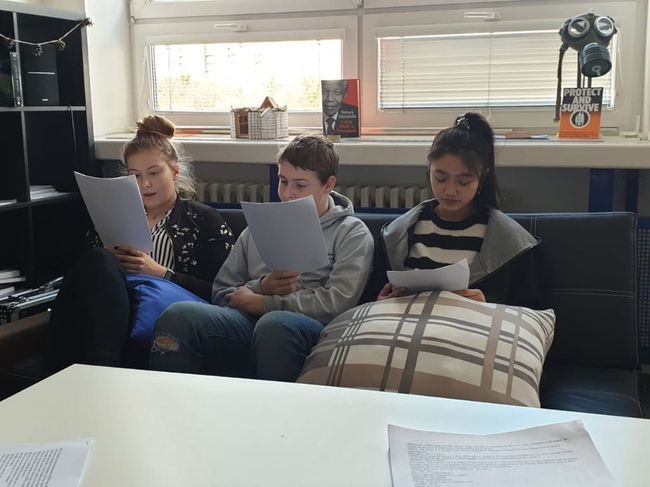 Understanding of Persuasive Techniques
Year nine students have been deepening their understanding of persuasive techniques and devices. After watching several examples of persuasive advertisements, students invented a product that would solve an everyday problem. They came up with some very creative ideas, such as glasses with built in wipers or a pair of shoes that melts the ice as you walk. Then they wrote and filmed their own advertisement. To enhance their technological skills, students incorporated the use of green screen technology into their projects.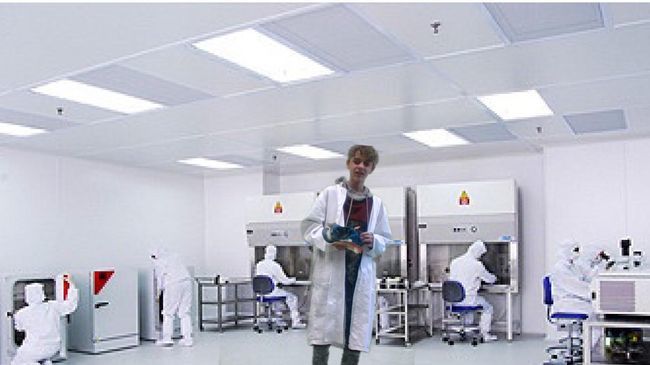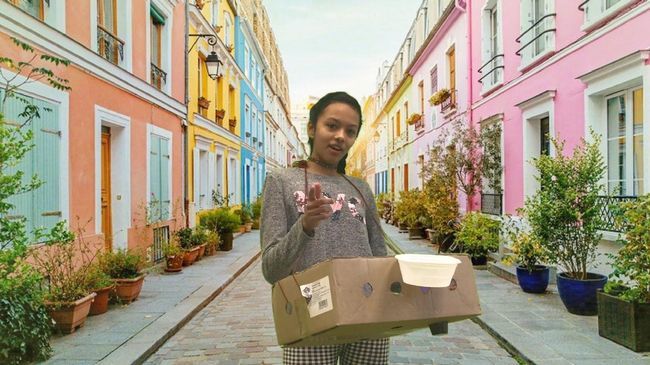 Gustav Stressman - Y10 Teleconference
Year 10, as all classes, have moved to teleconferences and remote learning. There are a number of tools which we already utilized with a 'flipped classroom' model which have enabled us to adjust quickly to the new paradigm in which we must learn. Students have responded well and we are using Google Hangouts and ZOOM to conduct classes, small group discussions and continue learning. The most important principles guiding the year 10 continuation have been clear instructions and asynchronous access. I have been encouraged by the year 10's mature and disciplined response and this will continue to aid them in their pursuit of becoming lifelong and independent learners.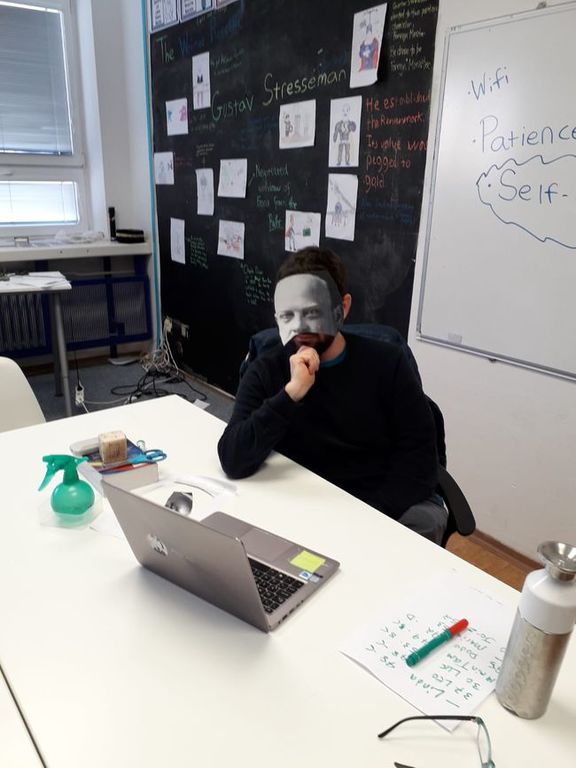 How Limiting Language is an Effective Method of Control
Students wrote a short summary of their winter break, and then using the rules outlined in the appendix of 1984, they translated their sentences into newspeak. Newspeak is the language used in Orwell's dystopian world in 1984. Then they gave their new version to a classmate, who had to re-translate the sentence back into modern language. Almost all of the translation had entirely different meanings than the original writing. This led to an interesting conversation on how limiting language is an effective method of control, where students began to realize how the words we use may limit the way we think.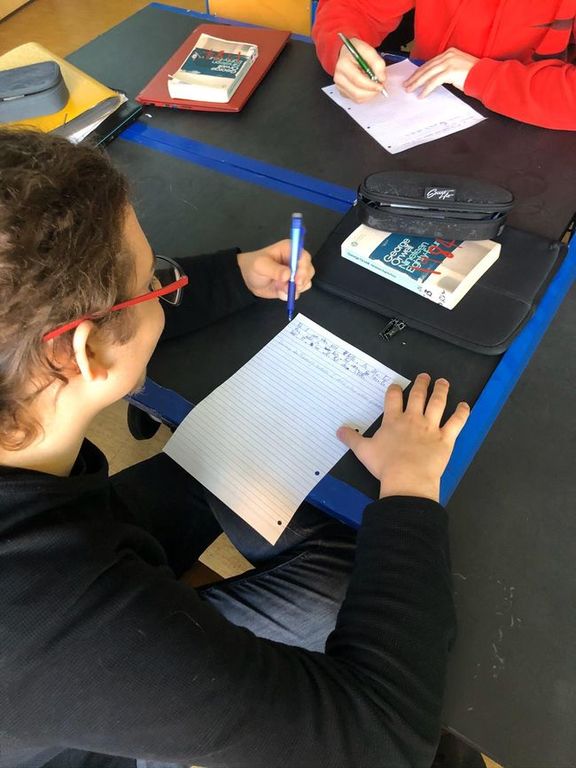 "Subversion of the State"- Trial of Vaclav Havel
In Year 12 and 13, we have been studying the Vanek Plays by Vaclav Havel. As part of the study, the students decided to recreate the 1978 trial of Vaclav Havel. In our trial the content of the play Protest was used as material for his prosecution and defence. This was the trial where in reality Vaclav Havel was sentenced to 5 years for subversion of the state.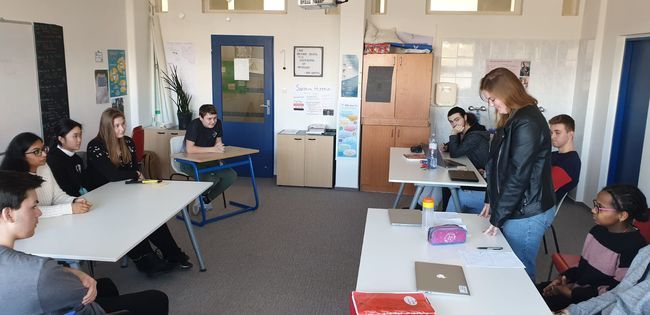 Catching Skills beyond the PE Lesson
Early Years 1 & 2 practiced their catching skills in the gym with Mr Jan. The children learnt many unexpected skills through a simple game of "throw and catch". Hand-eye coordination is just one of the skills learnt through the game, as using the eyes to direct attention can help with your child's handwriting. Also catching the ball will strengthen motor skills. Early on it familiarizes the little ones with their environment, develops their upper body mobility, helps them grow stronger, and develops the muscles they need to run, jump and hop higher and faster!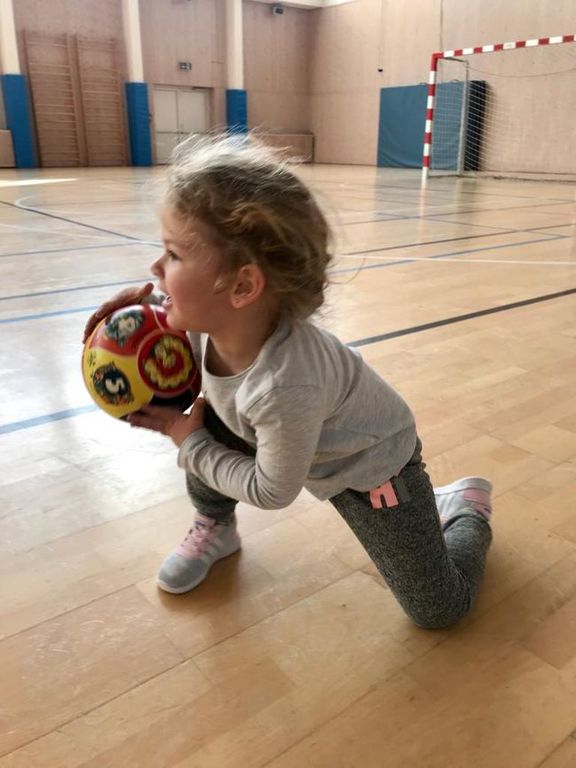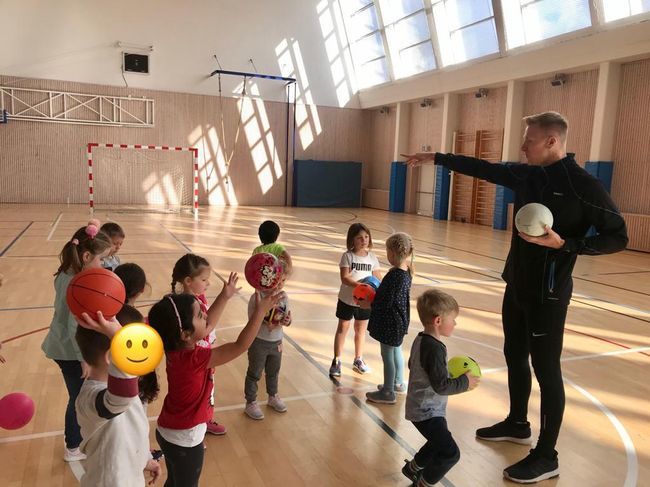 Practicing Beginning Sounds
Early Years 2 students have been busy in their literacy lessons, practicing beginning sounds. The children worked independently selecting pictures that they are familiar with. Afterwards in groups they discussed what the beginning sound of their selected picture was. The children then began to practice the sounds and writing on their individual boards. This particular activity will help the children to start to recognise certain words in their future development.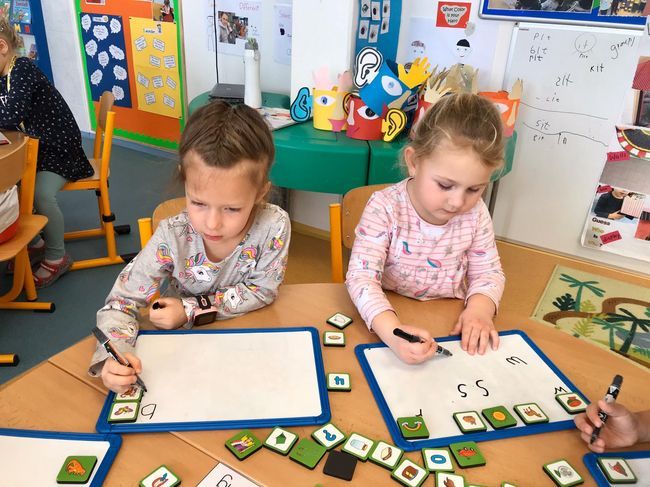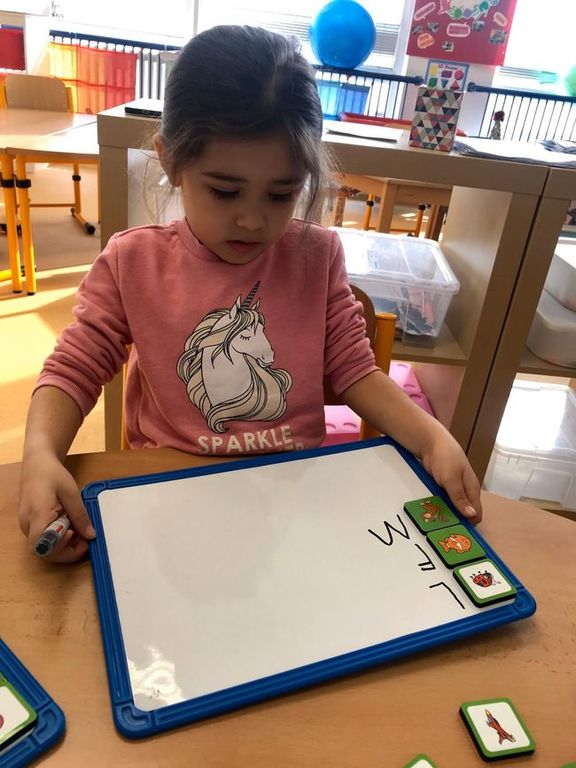 Reading Mini-Biographies about Kids
In this engaging activity, Year 5 students read mini-biographies about kids around the world and examined if specific rights were being respected. The students shared their thoughts, reactions, and provided feedback within small groups. As part of our unit of inquiry, Year 5 students are studying the Rights of a Child. By reading the mini-biographies and looking at pictures of other children's homes and bedrooms from around the world, allowed our students to investigate the Rights of a Child with a new perspective.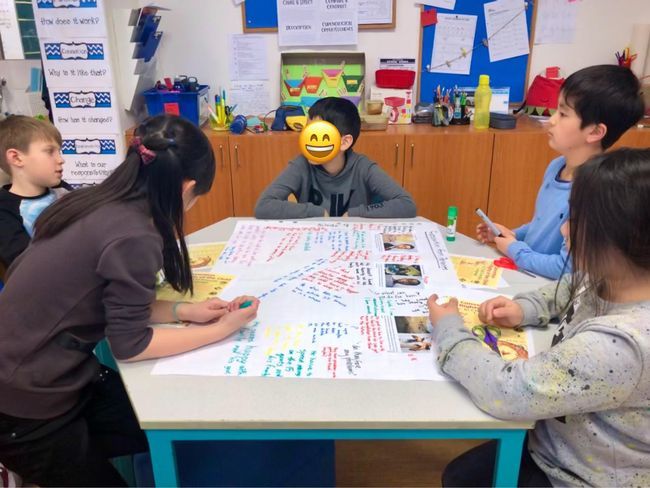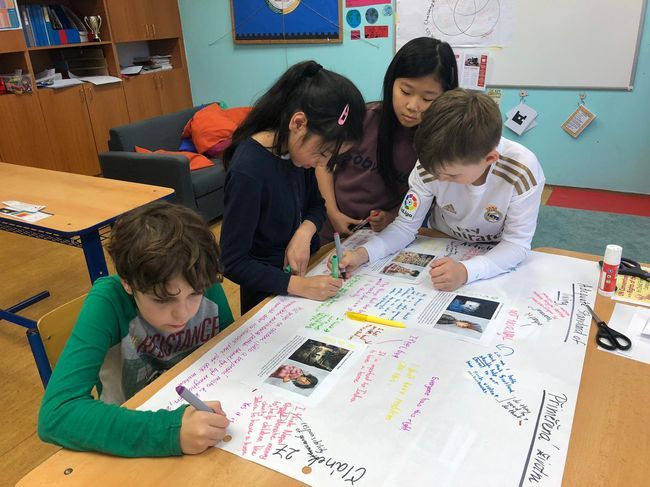 In order to revise some of the recent math lessons on fractions, Year 6 students took part in an escape game of sorts. After the students came back from lunch, they discovered a letter written by a group of monsters that had taken over the Year 6 classroom. In teams of three, students were given their first clue! Their challenge was to defeat the monsters by completing various fraction puzzles and riddles left for them. Students had to solve them before the monsters broke out of the classroom and took over the entire school. Through this escape game, students practiced skills that they had been learning about within their math lessons, but also had an opportunity to use their problem solving skills, thinking skills and social skills.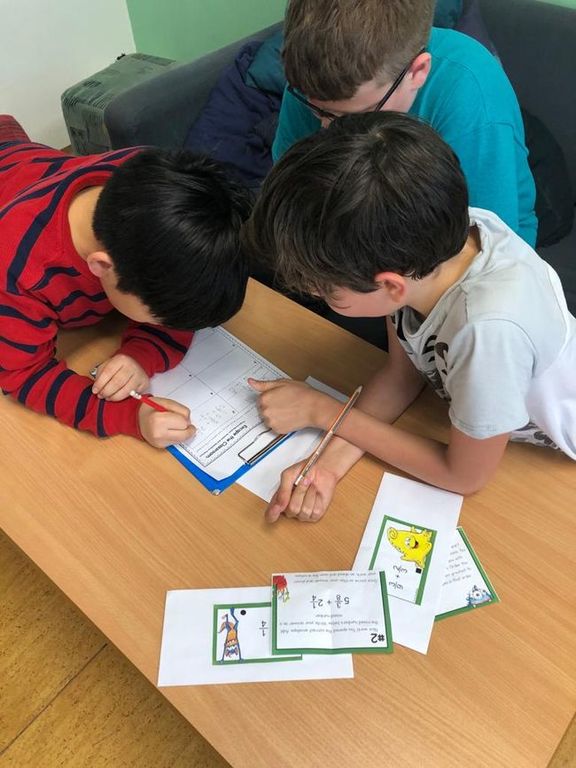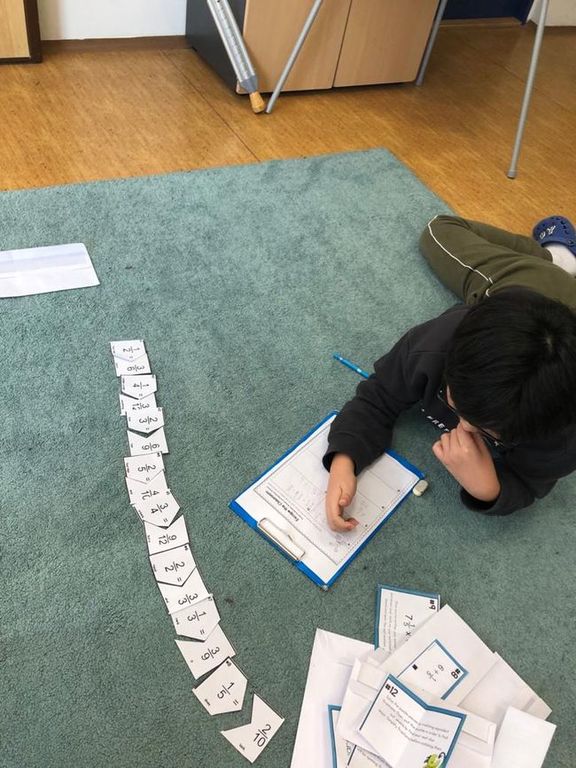 Investigating surface tension
Year 3 students conducted an experiment to understand surface tension. The central idea to their unit of inquiry is "Water plays an essential role in daily life but access to this resource can be unequal". Students used steps of the scientific method to inquire into the focus question: How many drops of water can a coin hold? Students developed a hypothesis and performed an experiment, and collected data to see if their predictions were correct. Students enjoyed the multiple attempts, trying to increase their results. Students were surprised at the strength of water molecules and related the activity to the Water Cycle, specifically the term, condensation.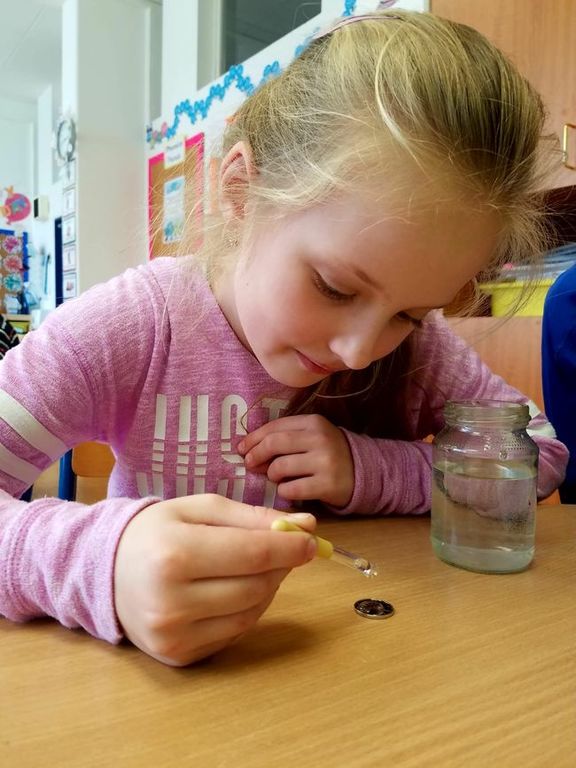 As a school it is our priority to provide a continuation of learning while our students are at home during this global situation. Learning that will continue to maximize our student's potential and challenge them to become independent learners. The Primary and Early Years teachers have been using new innovative teaching approaches to deliver content from the curriculum, as well as creating engaging daily lessons for our students. Most teachers have had live video lessons to ensure the students are able to interact with their teacher and classmates, plus receive the instant feedback to questions that they have about the concept being taught. Thank you to all of the ISB community for your support and patience during this time of change.